VRFBs have been successfully used to provide charging stations for electric vehicles, (EVs) in a variety of countries around the world. The shell of the set up can be used to provide shading for the cars whilst hosting the solar panels used to charge the battery. Often EV charging stations use the grid to provide the power, in this scenario it's renewable energy that is charging.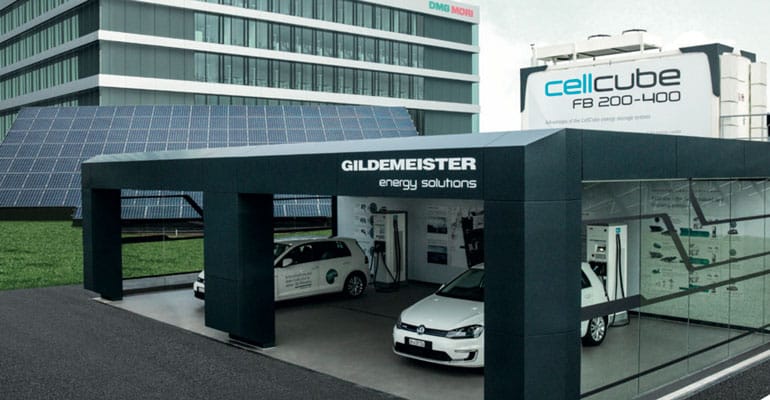 ENSURE A STABLE, SECURE ENERGY SUPPLY FOR TELECOMMUNICATIONS
The telecommunications industry places high demands on the reliability and security of electricity supply to their systems. This is because the services offered by the companies in this industry, such as mobile communications, must also be provided on a sustainable and continuous basis.
This must also be reflected in the power supply. VSUN Energy fulfils this requirement by integrating solar and/or diesel, with the VRFB storage system, guaranteeing a reliable and sustainable supply of power for the telecommunications industry.
The intelligent energy management system significantly reduces supply and site costs and provides environmental and economic added value compared to conventional diesel generators.
The VRFB storage system can be easily and seamlessly integrated into any system, and it is independent of climatic conditions.
As a result, green energy is available at any time, anywhere.
POTENTIAL TELECOMMUNICATIONS APPLICATIONS INCLUDE THE USE OF VANADIUM REDOX FLOW BATTERIES:
as a replacement for high-maintenance and environmentally hazardous battery systems and diesel generators
to stabilise weak, unstable power grids
as off-grid solution in areas without connection to the grid
as a suitable means of energy for all signal transmission stations
as a scalable solution for locations with multiple operators
THE ADVANTAGES OF USING A VRFB INCLUDE:
reduction in the total operating costs
elimination or mitigation of the effects of constant increases in diesel prices
ease of integration into DC telecommunications infrastructure
elimination of service and maintenance cost of obsolete storage solutions
environmentally friendly and reusable components
ease of integration into standard online and remote maintenance systems
high-temperature tolerance
USING THE VANADIUM REDOX FLOW BATTERY FOR STABLE POWER SUPPLY
The storage solutions from VSUN Energy open up new avenues in stable and cost-efficient electricity supply. Whether in combination with solar PV (photovoltaic) systems, wind power plants, diesel, gas or biogas generators, or operated in parallel to the public grid, VRFBs are the optimal backup solution to provide an uninterrupted power supply. VRFBs are ideally suited to be the central component in a microgrid.
The VRFB ensures that energy from PV and wind systems is available even when it is dark or there is no wind. It can be recharged quickly and it is immediately ready for use.
With a wide range of VRFBs offered, VSUN Energy's solutions offer integrated systems for the energy industry. They can be used, for example, to stabilise the grid, as decentralised supply units or as interim storage for surplus energy.
Providing you with an uninterrupted power supply thanks to vanadium redox flow technology. VRFBs store energy until it is needed. Capacity ranges from kW through to multi-MWh with all products having a 100% deep discharge.
GO OFF-GRID WITH VANADIUM REDOX FLOW BATTERIES
On-site generation of electricity through decentralized systems, including diesel generators or renewable energy sources like solar PV, combined with a high-performance, scalable VRFB energy storage system, make microgrids a viable solution for your company's energy needs.
VRFBs offer uninterruptible power and significant cost savings. VSUN Energy offers comprehensive support in developing the ideal microgrid solution for you in Australia – from semi-autonomous to autonomous. Where the power supply is unreliable or cost prohibitive, off-grid solutions from VSUN Energy are ideal.
For a wide range of scenarios, including weak infrastructure, hotel facilities, or even entire islands, VRFB energy storage systems combined with diesel/gas generators can reduce costs by over 50% while ensuring an uninterrupted power supply.
VANADIUM REDOX FLOW BATTERIES AND SOLAR PV (PHOTOVOLTAIC) SYSTEMS
Our energy solutions installed either with a partner solar provider, or directly with our customer, fit perfectly with solar park project solutions – from planning to system implementation to operations. This includes the precise assessment of customer needs, a detailed installation plan, GPS-assisted measurement of solar PV (photovoltaic) tracking systems and minimisation of potential power loss caused by shading.
The photovoltaic systems are installed and put into operation in cooperation with certified partner companies and organised in accordance with a pre-defined project plan.
FLOW BATTERY INSTALLATIONS AND SOLAR POWER
Most flow battery installations used in large megawatt installations are combined with a solar panel system. This makes perfect sense as you need a cheap source to generate electric energy. Whilst large in size, these powerful flow batteries can be transported to any location within Australia.
Australia lies in the perfect geographical location to provide sufficient solar energy for the solar panels to charge VRFBs. The systems can hold hours of electric power which can be used during peak times to avoid penalty tariffs and save a small fortune.
If your business is located in an area where power failures occur, these solar panel/VRFB combinations can be a real saviour. The solar and battery backup system can easily get you through a few hours of total power failure and potentially avoid costly loss of production.
VRFBs offer an uninterruptible supply of power. They are available with power ratings from 10 kW and a scalable energy capacity into the MWh range. Base load coverage, power peak limiting and safeguarding of sensitive areas can be guaranteed at all times.